---
Welcome to my site. Who am I? Well if you don't already know, take a trip to "About" and see.
My web-site is a constant work in progress, so will change from time to time when I see new ideas or items which inspire me. It's really just my own little playground on the net, where if you wish you may get a glimpse of me, who I am or what I'm about.
The main overriding theme is, of course, my bike(s). When I learnt to ride a bike and got my Zed - always my dream bike, I discovered a new freedom I'd never imagined or known existed. In spite, or perhaps because of my various accidents, I'm determined not to give up that freedom, unless I, personally abuse it.
Please do use the contact me option on the left, or leave me message in the Guestbook. I'm always very pleased to hear from anyone, either about bikes, life in general, or just that they got lost in cyberspace and ended up here.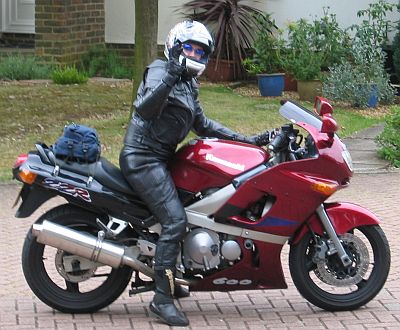 ---
Copyright ? 2003 by Girlie_Biker/Girlie-Biker. All rights reserved.
Revised: 07 Jul 2012 11:45:20 .